EVOLUTION E5 DUAL ELECTRONIC FLIGHT INSTRUMENT
Blow off some steam! Featuring new advanced features and standard HSI!
Get IFR-rated glass starting under $6,000. Don't settle for a limited digital replica of your existing mechanical gauges. Harness the true power of a feature-rich glass cockpit system and upgrade your flying experience.

Evolution E5 Dual Electronic Flight Instrument
Simplifying the transition from old-style vacuum gauges to electronic displays
The Evolution E5 is a drop-in replacement that gives you advanced functionality with easy and affordable upgrades that allow you to add additional capabilities and take advantage of future technologies without replacing your existing display.
Versatile Performance – presents attitude information with altitude, airspeed, vertical speed plus HSI  into a single display with a backup battery. Includes Global Positioning System (GPSS) Steering, and attitude heading reference system (ADAHRS)
New advanced features –  Unlock the true power of the E5 now featuring a standard HSI and optional True Airspeed, Outside Air Temperature, Winds, and GPS annunciations through a simple software upgrade
Flexible installation options –  the E5 is approved for IFR flight when installed with a panel-mounted IFR GPS.  When installed without a panel-mount GPS the E5 is approved for VFR flight only.
Reliable – With redesigned electronics and new glass, the Evolution E5 has a bolder and brighter display and offers higher reliability, more capability, and increased processing speed all while retaining Aspen's unique form factor design that keeps installation costs down
Affordable and easy to purchase – real glass for under $6K and available through aviation retailers
Compatible – works with your panel's existing avionics
Autopilot – interfaces to the Bendix/King AeroCruze 100 autopilot and is compatible with most legacy autopilots (Optional ACU and EA100 may be needed depending upon autopilot type.)
Simple Installation – the unique form-fit factor design slides into existing panel cutouts—one install does it all
Upgradeable – affordably upgrade to the Pro MAX and add other features such as ADS-B, Angle of Attack, Synthetic Vision and Hazard Awareness with an easy upgrade path that leverages your Evolution E5 investment without unit replacement
Smart Investment – increases aircraft value, situational awareness
Specifications
General Specifications:
Overall Dimensions   3.50" W x 7.00"H x 4.15"D
Weight   2.9 lbs. with mounting bracket
Display Type   6.0" Diagonal TFT Active Matrix LCD
Display Resolution   400×760
Display Backlight   High Intensity White LED
Display Colors   16M
Operational Specifications:
Operating Temp   -20°C to +55°C
Storage Temp   -55°C to +85°C
Max Operating Altitude (unpress.)   35,000 ft.
Cooling   Integral Fan
Max Humidity   95% at 50°C
Input Voltage   +9 to +32 Volts DC
Max Current   2.4 Amps @ 28 Vdc  /  4.8 Amps @ 14 Vdc
I/O Specifications:
ARINC 429 Inputs   5 Low Speed
ARINC 429 Outputs   1 Low Speed
RS-232 Inputs   5
RS-232 Outputs   3
Pitot / Static   Quick Connect
Certification Specifications:
Software
RTCA DO-178B Level C
Environmental
RTCA DO-160E
Always Configurable. Always Affordable. Always Upgradeable.
Backup attitude indicator not required
Consolidates traditional attitude indicator and directional gyro (DG) into a single display
Autopilot compatibility interfaces to the Bendix/King AeroCruze 100 autopilot
Compatible with most legacy autopilots
Includes Global Positioning System (GPSS) Steering, and attitude heading reference system (ADAHRS)
Large, 6.0″ diagonal, 400 x 760 pixel TFT Active Matrix LCD screen with bolder/brighter resolution
Rechargeable lithium-ion internal backup battery with up to one hour of battery life
Works with your panel's existing avionics
Connects to one GPS source and one VLOC source
Unique form-fit design slides easily into existing panel cutouts
Provides a path for removal of vacuum instruments*
PFD Upgrades
Easy and affordable Evolution E5 Non-TSO STC to full TSO Evolution 1000 Pro upgrade
* In most circumstances. Actual vacuum instrument removal will vary by aircraft.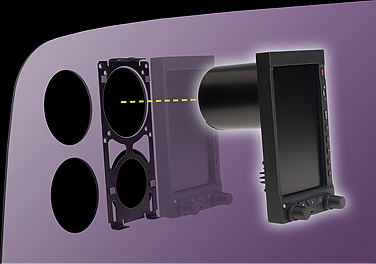 Evolution Technical Resources

Evolution Media Resources

Additional Product Resources

Videos